Determine the True Cost of Running a Dust Collector
The Price Alone Doesn't Tell the Whole Story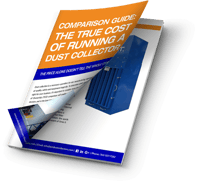 You need the right dust collection system to keep your facility clean, safe and running efficiently. To determine which dust collector is right for you, it's important to consider more than just the initial price tag.
A total cost of ownership (TCO) will help you make a more accurate purchasing decision, and in the long run, save you money. To determine the TCO of a dust collection system, you should evaluate:
The energy required to run the equipment
The cost of the consumables
The system's maintenance and disposal
The price alone doesn't tell the whole story — sometimes a less expensive system will end up costing you quite a bit more. Fill out the form to download our cost analysis guide and determine the true cost of operating a dust collection system.